Sonny's Barbeque of Ocoee, FL
New Construction Project in Ocoee, FL
This project highlights our expertise in delivering high-quality new construction services, adhering to strict timelines, and creating a vibrant and inviting space for our clients. With a focus on collaboration, innovation, and attention to detail, our team successfully built Sonny's Barbeque from the ground up, ensuring a seamless integration of design, functionality, and brand identity.
Project Scope:
The Sonny's Barbeque of Ocoee construction project involved the construction of a brand-new restaurant facility. Our team collaborated closely with Sonny's Barbeque management to understand their vision, operational requirements, and desired customer experience, ensuring that the construction project aligned perfectly with their goals.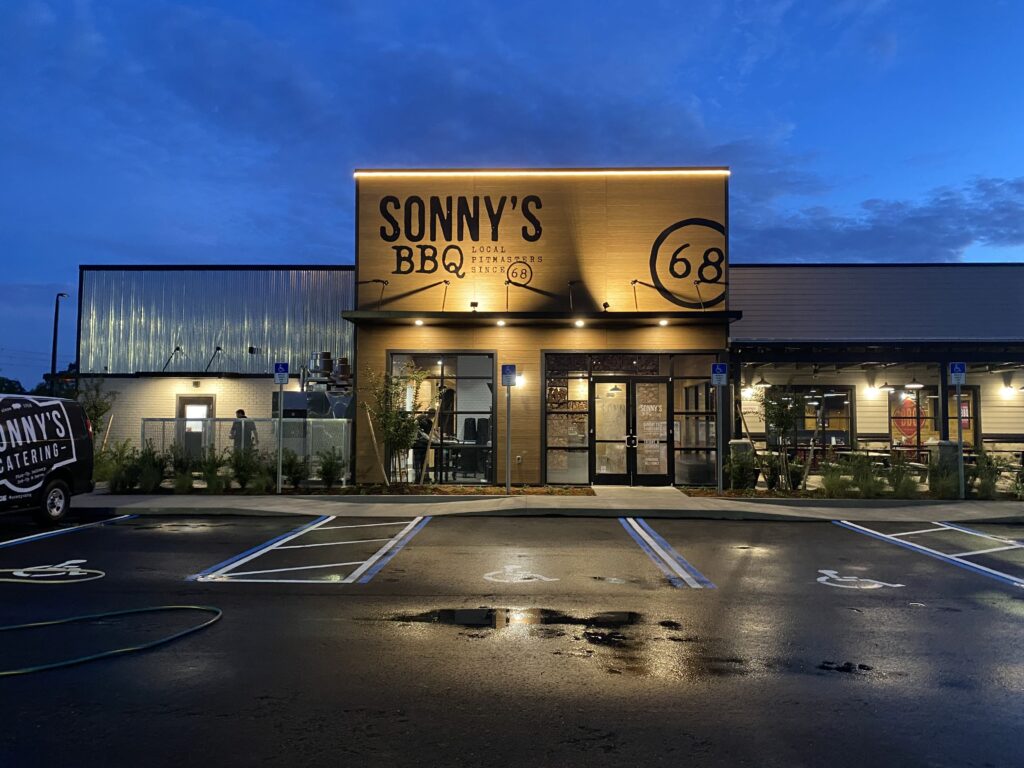 Key Features
Architectural Design: We partnered with experienced architects to create an aesthetically pleasing and functional design for Sonny's Barbeque. The design captured the essence of the brand, incorporating elements that reflect its identity while maximizing the available space.
Structural Construction: Our skilled construction team executed the project from the ground up, ensuring a solid foundation, sturdy framework, and reliable infrastructure. We paid meticulous attention to structural integrity, ensuring compliance with all building codes and regulations.
Interior and Exterior Finishes: We worked closely with Sonny's Barbeque team to create an inviting and immersive dining experience for customers. The interior finishes incorporated a harmonious blend of materials, colors, and lighting to create a warm and comfortable atmosphere. The exterior façade featured attractive signage, well-designed landscaping, and ample parking to enhance the overall curb appeal.
Kitchen and Dining Areas: The construction project included the installation of a fully equipped commercial kitchen that meets the highest industry standards. We optimized the kitchen layout for workflow efficiency, ensuring smooth operations and facilitating excellent service. The dining areas were thoughtfully designed to accommodate different seating options, creating a comfortable and enjoyable experience for guests.
Utilities and Infrastructure: Our team undertook the necessary installations of electrical, plumbing, and HVAC systems, providing reliable and efficient infrastructure to support the restaurant's daily operations. We prioritized sustainability and energy efficiency, ensuring Sonny's Barbeque of Ocoee meets modern environmental standards.
Results and Client Satisfaction
The construction project of Sonny's Barbeque in Ocoee successfully delivered a state-of-the-art restaurant facility that exceeded expectations. Our attention to detail, adherence to timelines, and commitment to quality resulted in a space that embodies Sonny's Barbeque's brand identity while providing a delightful dining experience for customers. The project's successful completion and the satisfaction of our valued client are a testament to our dedication to excellence in construction.